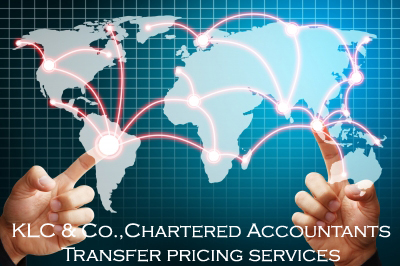 As the Indian economy grows, companies across the globe are targeting India due to two basic reasons:
India is one Big growing market 

India has cheaper costs of production
Whenever, there is a transaction between such a Global Company with its Indian counter part and vice-versa, the transaction needs to be at an Arms Length Price. Transfer Pricing is not a new concept to the Global Taxation Systems. It is majorly implemented by Countries to ensure proper segregation of revenue for taxation. KLC & Co. helps such companies decide, implement and justify the Arms Length Price of each transaction. We provide the following sub-services under Transfer Pricing:
Transfer Pricing Health Check
We review existing inter-company Transfer Pricing arrangements and help in improving them to mitigate the risk of transfer pricing litigation.

Transfer Pricing Study
We assist in planning and formulating an effective global pricing policy for pro-actively reducing the taxation litigation

Advance Pricing Agreement
The Indian Taxation system allows a Company to negotiate a Price at which a particular transaction can take place for 5 years, mostly used when the transaction is of a complex nature. We assist in negotiating such Price with the Indian Taxation Authorities.

Transfer Pricing Litigation Support


Transfer Pricing Authorities are very aggressive when it comes to India and is one of the most sensitive and litigation prone field. We assess our clients transfer pricing study based upon their business models to resolve the disputes with Indian Tax Authorities. 
Want to know more about our Services or Contact Us?
Sure Do!!